SH SILVERCARD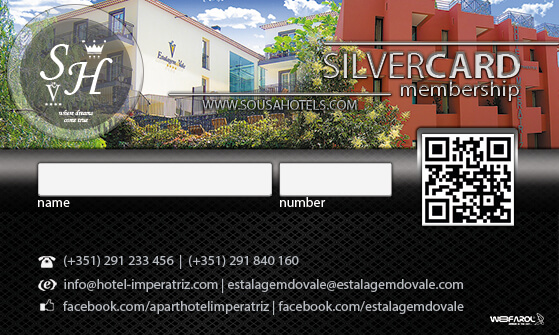 | | |
| --- | --- |
| BENEFITS | DESCRIPTION |
| Accumulation and use of points | Whenever you stay at ApartHotel Imperatriz or Estalagem do Vale you will be accumulation points in your account which you will be able to trade for accommodation in any of our facilities. |
| Free of Charges | The card does not require any maintenance costs. It's totally free. |
| Access to exclusive promotions |  All card members will have exclusive access to discounts and promotions launched by hotel units. |
| Rent-a-car | The card members will have access to an immediate 10% discount on car rental. |
ACCUMULATION AND USE OF POINTS
Whenever you use the SH SILVERCARD you will be accumulation points in your account which you will be able to trade for accommodation.
By making purchases in Sousa Hotels you will accumulate 4 points for each Euro spent.
Afterwards your may trade points for Euros to discount in accommodation (40 points = 1 Euro).
TERMS AND CONDITIONS
The SH SILVERCARD fidelity program which is the property of the Sousa Hotels group is destined to all those who regularly frequent the Sousa Hotels facilities.
Registering the SH SILVERCARD with your data in our system implies the acceptance of the conditions of our program.
The SH SILVERCARD program is destined only to individuals.
After registering, a membership card will be delivered by e-mail which is personal and non-transferable.
The benefits of the program are valid only for the member, respective spouse and children under 18 years.
The member's card points expires automatically after 2 years, if within this period there is not recorded any consumption in any of the group's units.
The card remains the property of Sousa Hotels and may suspend at any time in case of the undue use of it.
Members of the SH SILVERCARD fidelity program should expressly mention their membership number when making a reservation.
It is obligatory to present the card at the time of checking in, accompanied by another valid means of identification, under the penalty of not being considered eligible for the benefits of the program.
The payment for the stay and other services should be done at the time of check out.
The advantages conceded to members of the SH SILVERCARD fidelity program are not accumulative together with other offers, promotions of special programs.
Holders of the member cards accumulate points calculated on the value of the invoice without VAT.
Points will not be credited for consumption referent to banquet services, events, room rental or spending by other clients who are not title holders of the card, their espouse or children.
The points are valid for a period of two years, counted from the date of their acquisition (credit).
The SH SILVERCARD fidelity program must be registered in the Sousa Hotels newsletter and maintain his subscription under the penalty of the card be canceled.
It is not possible to transfer the points to third parties cards
In case the holder sees that point credits for a determined consumption were not credited he should send a copy of the invoice referent to this consumption together with his card number by email (

This email address is being protected from spambots. You need JavaScript enabled to view it.

). The holder has a period of six months counted from the invoice date to claim the credits.
The holder is obliged to keep his personal data updated.
The current conditions may be altered at any time by Sousa Hotels, without the necessity for any previous communication. Sousa Hotels will always maintain the program conditions in force on the site (www.sousahotels.com).